One of the local malls, Willow Bend, is presenting "Polar Express Snowglobes" for this holiday season. As soon as I saw it in the city magazine I knew it was definitely a MUST for Brayden...he ABSOLUTELY LOVES this movie! For the last two Christmas seasons he has watched it at least once a day for the whole month of December..sometimes more. :) So on Friday right afterschool, my mom and I decided it was the perfect time to take him. (She was in town after having a lunch date with Brayden at his preschool's Thanksgiving Feast.) Let me just say, it was the perfect time, we basicaly had the whole thing to ourselves. Here is a slideshow of all his fun:
At the end of the Polar Express trail came Santa Claus....Brayden is PETRIFIED of Santa Claus...(Last year, we stood in line for 2 hours to have his picture taken for him to only start BAWLING his eyes out as soon as it was our turn.) So this was as close as he would get to seeing Santa Claus: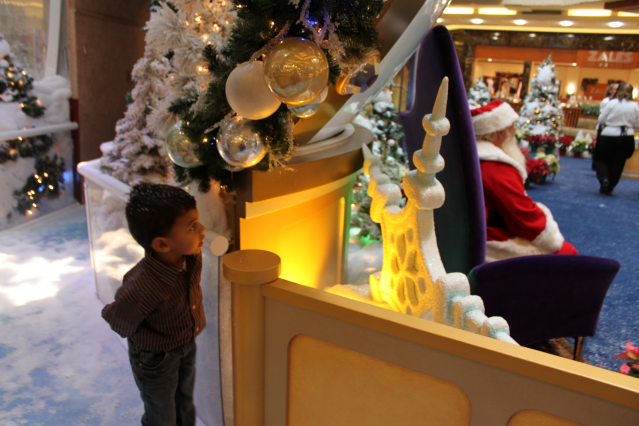 He would not cross this line...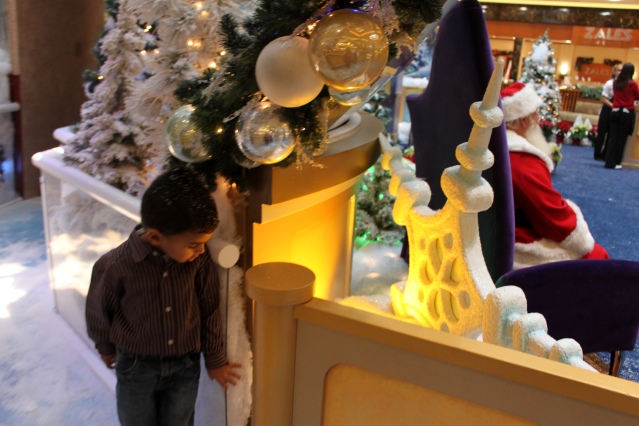 well that is until he saw this giveaway hosted by the local Lexus dealer:
it's a Child Size Golf Cart.
He wanted this so BADLY! I told him that he would need to go tell Santa Claus so that maybe he could get it for him. Well, with A LOT of hesitation, he slowly walked back up to him. He quickly in passing told him he wanted a golf cart for Christmas (no sitting on the lap). He said it in such a rush the poor guy couldn't even understand him, so I of course had to interpret for him.
He had such a great time! He has already asked numerous times if we can go back to see Polar Express. :)
Then on Saturday we did our semi-monthly
Lowe's Build and Grow
, this time he built a cute Snowman Giftcard holder. He is starting to get more independent on these projects. He knows our routine of opening and sorting our supplies and then reading the instrucions to figure out what to do. (Of course he can't read yet, but he is usually able to figure out from the picture directions.)
All finished!! He LOVES getting these lil patches for his apron. :) Next on the list for Lowe's Build and Grow is a Gingerbread House and Christmas Ornaments. If you haven't signed up yet, be sure and check out their website to preregister.
Both of these SUPER FUN activities were absolutely FREE....if you like FREE things as much as I do, you might want to head over to my good blogging friend Mellissa's blog: Getting all my Ducks in a Row. She is partnering up with Chrissy from Life as a CEO and they are cohosting a Stuff your Stocking weekly givewaway. They both are offering some AMAZING gifts over the next few weeks until Dec. 19th. Be sure and check both their blogs out weekly so you can have a chance on winning their giveaways.

You might also like this SUPER easy way that I have found to make some extra money, through
Swagbucks
...all you have to do is sign up through this
link
, then do all your searches through swagbucks.com...it's so EASY!! Already in just a lil over 2 weeks I have earned enough for $10 in Amazon giftcards which can easily be applied towards a Christmas gift for Brayden...all for just naturally searching the internet, nothing special. If you have any questions about it feel free to email me and I'll do my best to answer them for you. :)