Tonight I thought I would be posting some fun pictures of our trip to the pumpkin patch with Brayden's lil preschool class. We were both so excited to go! He was thrilled to get a chance to ride the bus, go on a hayride, feed some animals, and pick his own lil pumpkin. I was just as exctited to go along with them and capture every lil moment with my camera. Unfortunately, as we walked in the door the very first thing they told us was the fieldtrip had to be cancelled...there was too much rain. Instant disappointment for both of us. They tried to assure us that they were going to reschedule and the kids would still get to go...but
today
was the day I took off work to go, not a "later" day. Surprisingly all the kids seemed to take the news really good (probably better than me). I ended up staying in Brayden's classroom to watch their calendar routine and eat snack. The whole time I am thinking how can I make this better for him, so he won't be disappointed. I thought of a couple of ideas then I decided it was time to go on and try to make the most of my day off. He of course, wasn't wanting me to go. He wanted me to stay there with him cause he was "going to miss me." I was touched and part of me wanted to just scoop him up and bring him home with me, but I knew he needed to stay and I needed to finally get some things done around the house without distractions.
So in an attempt to make everything better, after I picked him up in the afternoon the first thing we did was to go to a "mini pumpkin patch." Special thanks to Market Street, a specialized grocery store around the corner from us who had lots of different kinds of pumpkins for us to see.
He finally decided on this one: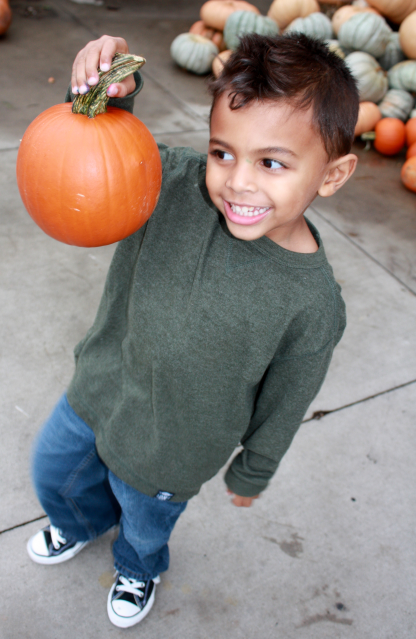 Then once we got home he painted his own pumpkin out of newspaper and a brown paper bag. This is an old simple Halloween craft that I remember doing way back when I was in elementary school. He had a ton of fun painting and creating his own pumpkin. We also made some super cute "ghost cookies" from an idea that I saw on this blog.
It is very simple! Dip a NutterButter cookie into white bark, then we used black icing for the eyes. He then insisted that they also needed a nose or mouth (which I guess he was probably right) so he added those on his own: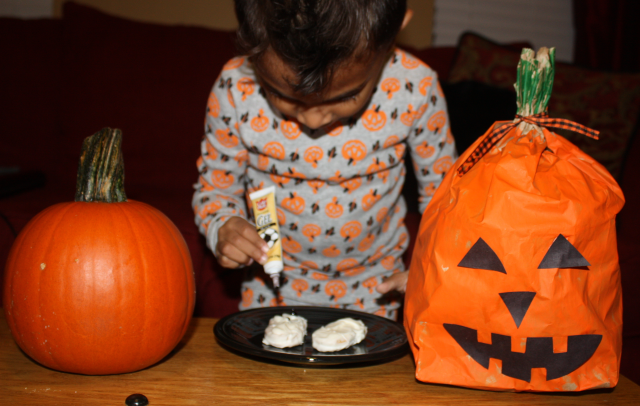 He thought they were D.E.L.I.C.I.O.U.S. and the perfect bedtime snack. (Aren't his new halloween pjs just the cutest?! I picked those up at Walmart today for only $6. He was SO excited about them!)
Since we still have plenty of this fall treat leftover from yesterday, I only melted one square of the bark. It was perfect for us, we were able to cover about 3 cookies...so no leftovers. Now we can save the rest of the ingredients for another gloomy day that needs some joy. =)