Ok, I think I have created a monster…"a scary party" monster! When my mom was here last weekend, Brayden was begging to go outside and use his glow sticks. Already having several mosquito bites, I wasn't a fan of him getting any more. Being the lil problem solver he is, he came up with the idea that we could just: "turn off all the lights downstairs and the tv and computers and then it will work." So as he turned off all the lights and twirled his sticks around, it reminded me of my college days and going to black light parties. I remembered laundry detergent everywhere, so off to google in search of "detergent and black lights." I found this great
website
that had several ideas of what glows under black lights and of course my mind started racing. We could create our own lil black light party in our own hosue. After a trip to the Dollar Store and Walmart we got our supplies and were ready for around $35.
We purchased from Walmart:
• 2- 24inch Black Lights $22 (definitely recommend at least 2)
• 1 black twin flat sheet $3 (plan on going to get a couple more)
• 10 Black large trash bags $1
• Glow in the Dark Pony Beads and white ribbon $3 (I made a necklace for myself, but since "boys don't wear necklaces" Brayden made a snake.
From the Dollar Tree:
• Neon orange large sunglasses
• white crepe paper
• black vinyl tablecloth
• 3 pack of yellow highlighters (These worked wonderful!)
• Laundry detergent (This didn't quite work out as well as I had hoped, not sure if its because I got one that only cost $1 or not.)
• Petroleum Jelly (This didn't quite work out as well either.)
(We also used my black bath mat and a black towel that I had to help cover the floor. We had purchased a "glow in the dark" mask the other day at Hobby Lobby that Brayden got to paint on his own.)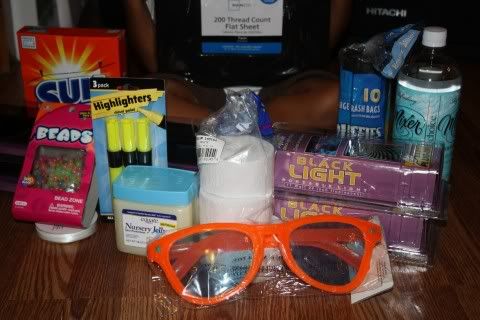 I had Brayden stay downstairs creating his glow in the dark snake, as I set everything up.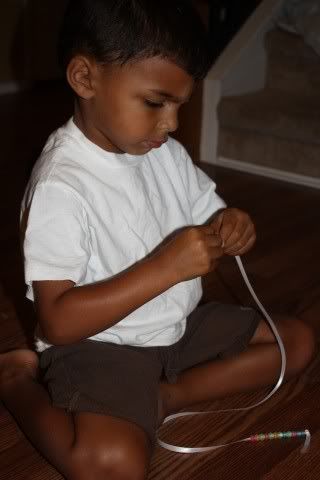 For the setup, I used our hallway.
To cover the floor: I used the twin sheet, bath mat, towel, and a couple of trashbags.
For the wall and door: I used the vinyl tablecloth and I opened up the trashbags…these made a great canvas so he could write on them.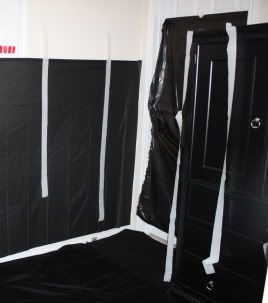 When he was finished, I was closer to being done so I let him make his way up 3/4 of the stairs. Here he is
patiently
waiting in anticipation. ( I was so PROUD of him...there was no peeking!)
He was sooooooo excited for it to FINALLY be "party time"!!
A few things that we thought were really fun: We added white copy paper to the vinyl tablecloth for him to draw on with the highlighters. We also discovered you can use highlighter on clothes and it washes out. We just tried it on his cheap undershirt, but after I washed and dried it all the highlighting was gone. =) And of course, you've got have fun music so can you dance around. =)


Believe it or not, the clean up was actually really easy! All I did was roll up the sheet, bath mat, towel and Brayden's clothes and put them straight in the washing machine (since we had used the detergent). He of course went straight to the shower. =) For the trash bags and crepe paper I just used scotch tape so they all came down easily. Since I'm cheap, I also folded them up and put them in a big ziploc bag so we could reuse them again. The tablecloth was hung up using just 2 pushpins so it will be easy to take down also. (We actually still have it hung because he is wanting to have more fun with it.)
I would highly recommend trying it yourself. We had an ABSOLUTE BLAST!! The first thing he asked when he woke up the next morning "Can we have another scary party?"
We still have a few little tweaks I want to work out...the laundry detergent (I'll try some of my Tide) and I bought Tonic Water but didn't have time to try it out. I also had bought some cheap glow in the dark paint from Hobby Lobby that I I'm trying to figure out a way we can use it. If anyone has any suggestions/ideas feel free to share them. =)