It's so hard to believe Christmas is already over and done with! I thought I would give a quick little recap of our Christmas.
We started off with one of our family Christmas traditions. Since I was little, we always were able to open one present on Christmas Eve. Growing up I remember being so anxious to open that
first
present...it took me quite awhile to realize that
first
present was ALWAYS going to be new Christmas pjs...gotta look good for those pictures and video the next morning. :) Well each year I have carried that tradition on with Brayden. This year his present mysterously showed up under the tree as he was playing Wii. He was SO excited at the chance to finally open a present...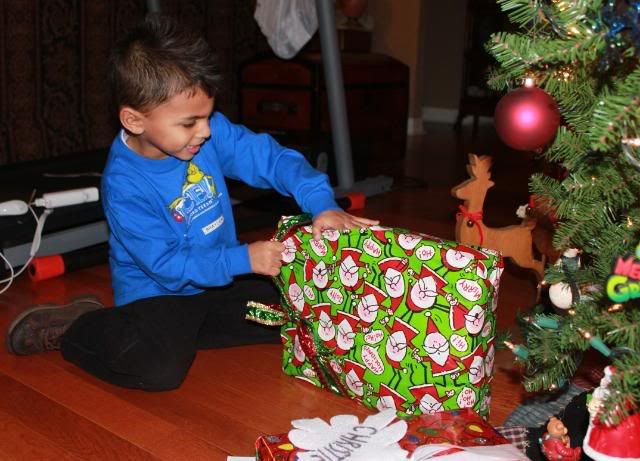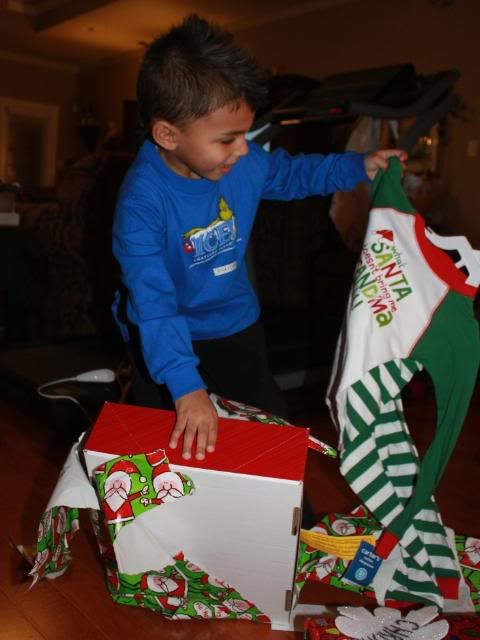 All dressed up in his new pjs:
Now on to the milk and cookies for Santa before bed...
While he was all snuggled in his bed, Santa came to visit: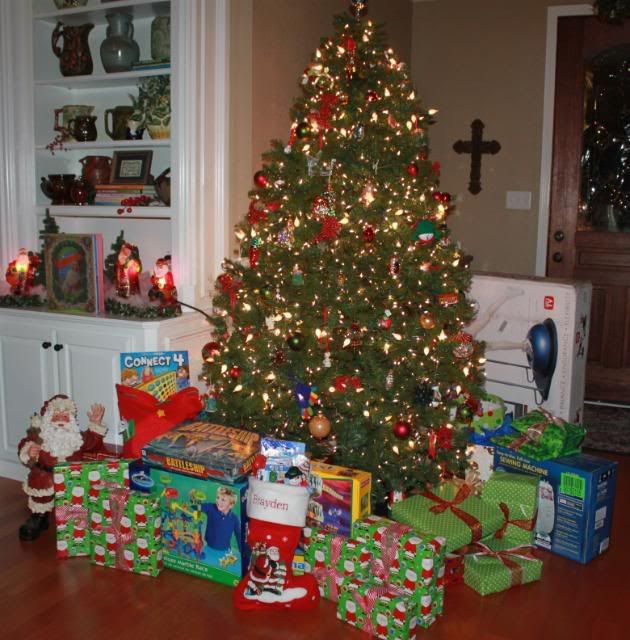 He was so excited to see the Battleship game...although he has yet to
actually
play it. :)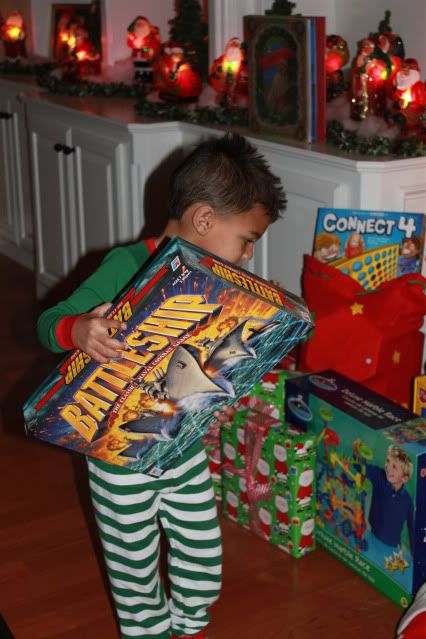 Opening a few gifts:
Getting a few more out of his Santa toy bag:
Whew! Finally, all done...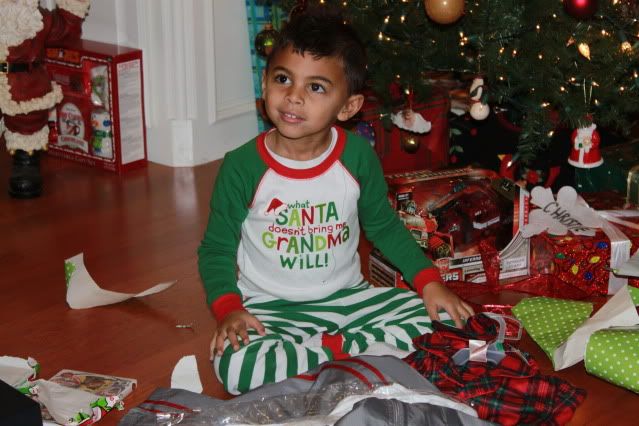 Althought he LOVES all of his gifts, his most played with are actually a couple of things that I picked up for him on Sunday
after
Christmas when the new weekly ads came out:
Wii Sports Resort
and the
Wii Nerf N-Strike Elite Bundle
. They were both on sale so I just
had
to get them. Does anyone else do that? Buy more gifts
after
Christmas? Each year I seem to find a couple more toys that I feel he just can't live without during the after Christmas sales. I think next year I might as well just purposely plan ahead for it. :)
We were also blessed with a rare White Christmas: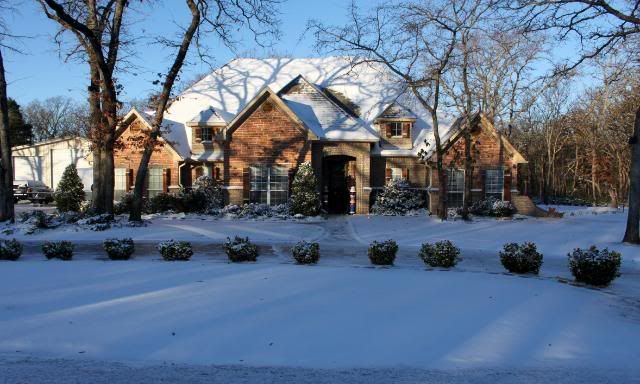 Brayden and my dad went out to make a snowman the next day: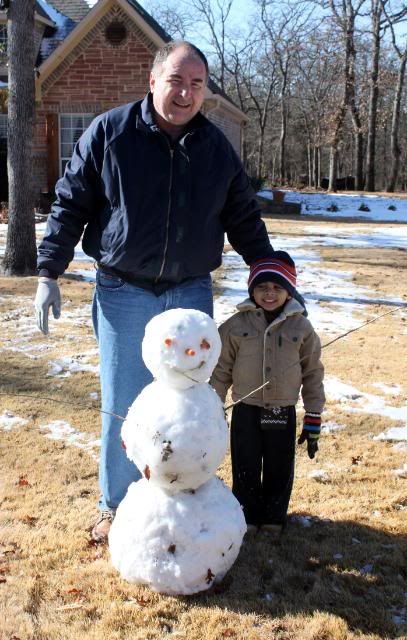 Had to give Frosty some smooches...
He also had to make a few snow angels...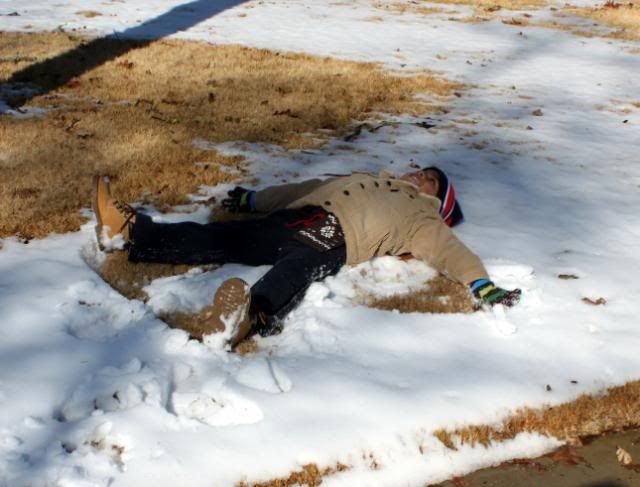 and toss a few snowballs...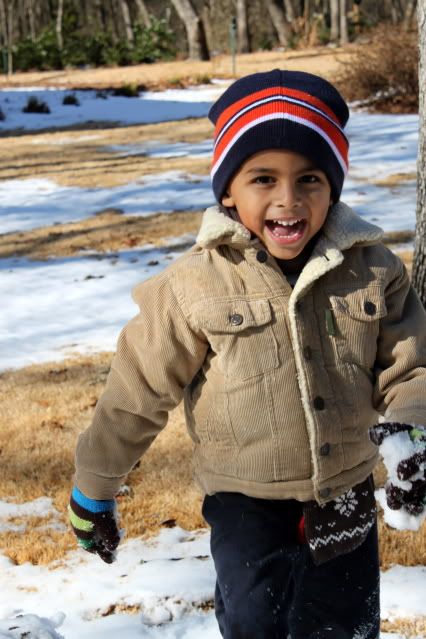 Overall we had a great Christmas, there were a few things that I learned.
***Discuss with him ahead of time that he is NOT to open any gifts until Christmas morning unless I tell him otherwise. This year I didn't have the conversation, for some reason I just thought it would be obvious to him. Well he opened a few gifts early completely on his own without permission. His innocent response was "Well they had my name on them." Lesson learned. :)
***He DOES pay attention to the wrapping paper. I had a feeling he probably would (he pays close attention to lil details) so I made sure Santa brought his gifts in different wrapping paper. And it was a good thing I did because one of the the first things he said when got to open his Christmas pjs was that there was already a gift with that same wrapping paper. Who would have thought 4 yr olds would actually care about the wrapping paper?!?
***Don't base most of his gifts on Black Friday sales...some of them weren't quite worth the
good
deal.
***Don't purchase the premade Gingerbread House kit from Wal-Mart...candy is hard as a rock and the icing was even yucky.
Few things to try out for next year:
**A Christmas tradition that I read on another blog that I thought sounded really fun that I would like to do next year is to wrap 24 Christmas books. Each night in December your child gets to unwrap a book to read before bedtime with the last one being "The Night Before Christmas." I thought it sounded like a great idea and can't wait to do it next year. :)
**An advent calendar
**Wrap gifts BEFORE Christmas Eve so I'll get to enjoy all my hard work for more than a few hours.
Hope everyone had a great one and Happy New Year!!